Craving for crabs, I went to google and found some really great reviews of the site. The price seemed reasonable and so we went to the place. =) It is located in Sgt. Esguerra (if you know where livestock is, it is in the same "compound".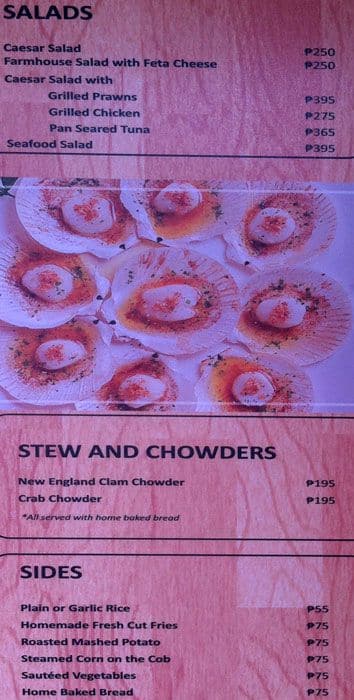 So since we came for the unlimited Crabs and Steaks, We went for it directly. If you do not see it in the menu, just ask the waiter for it. They have been very helpful.
We ordered the scallops for appetizers since it looked really good in the menu. =P It came right on time and it was indeed good.
Scallops
The Unlimited Steaks and Crabs in EL Cangrejo Comes with unlimited Soup of the day as well. This time it was Squash soup.
The steaks are great too, and you will be asked how would you like to have your steaks. I always want them well done so I don't complain if its a bit chewy. =P
The crabs are fantastic too! You know they are fresh! As soon as you are left with one side of crab in your plate, you will be asked by the waiter if you'd like a refill. Usually We get a plate for each one of us - about 3-4 whole crabs! Oh geesh.
Anyway, if you want to try it out, Give them a call as they would require a reservation for guests that would like to avail of the Unlimited Steak and Crabs. Also, This is available only Tuesdays and Thursdays. =)
EL CANGREJO:
Phone number
02 3510700