I have always loved that sleek shiny straight hair from classmates way back in my highschool. I often envy them, wishing I was born with such straight soft hair... But then miracles do happen and God does want us all to feel equal. Science and God Combined, Rebonding hair has become really accessible to us common employees. ha ha
My First Rebond was with the now defunct F-Salon. It was successful, only paying Php 3,000 6 years ago, is not too bad. Second time was a year later with F-Salon, another branch. Then Validosa opened a branch here in West Avenue; They offered cheap rebonding that I did tried them out after swearing never to have another chemical treatment anymore. But I failed.
Then I tried it in Orange Salon here near in our workplace, though the result lasted on my hair (my hair was not really course, and well still manageable than most dry frizzy hair) I think this is where i have noticed too much hair fall.
Latest was now - Just 5 days ago in Validosa Salon in West Avenue... I was greeted by someone who touched my hair and asked me questions about my hair and so on. i was asked to wait a few because the one who will handle my hair is just finishing up someone.
It was another 15 minutes before I was called so that my hair will be washed. I was asked if I had dyed my hair black because it was "very black" according to the guy (named Kazumi). He applied the treatment on my hair with no gloves, I guess that also included Keratin Treatment already because It was gentle enough for him not to use any gloves while applying it on my hair.
After 30-45 minutes, Kazumi checked my hair patiently and well tried to see the elasticity of my hair, before he asked his assistant to wash my hair. After that, he blow dried my hair, carefully parting it and asking me where I "part" my hair.
After the hair was ironed perfectly, the cellophone was applied to my hair and washed out in 30 minutes. (Mind you, he was so meticulous, and so very careful at doing so. This is probably the first time I have had a Rebond that I felt no heat from the hair ironed). His assistant told me it should just be a blow drying, and then I'm off to home. But Kazumi, being the perfectionist himself had ironed some of the hair probably some parts he see that he needs to re-do.
I asked for Hair Rebond with Keratin Treatment with Cellophane and it only costs me Php1,800. Total Damage amounted to Php2,000 since I gave Kazumi 150 Tip and 50 tip on his assistant who, by the way still has a lot of energy even at the time (10:30PM)
So Since this is also probably the first time for me to want to take care of my hair, I have also bought with me everything I think I need to do to keep my hair from damaging any further...
Rebond Hair Care Products I Use nowadays:
1. Swallow HairStraight Shampoo (Honey) - as the packaging says, It best for rebonded hair.
- I used small amount to "clear" my hair of the oil built UP, I did not wash it for three days!
- i bought mine for 92pesos each in Landmark Trinoma.
- Its got mild relaxing sweet scent; Love it... but it does not stay on your hair long (maybe it is that mild)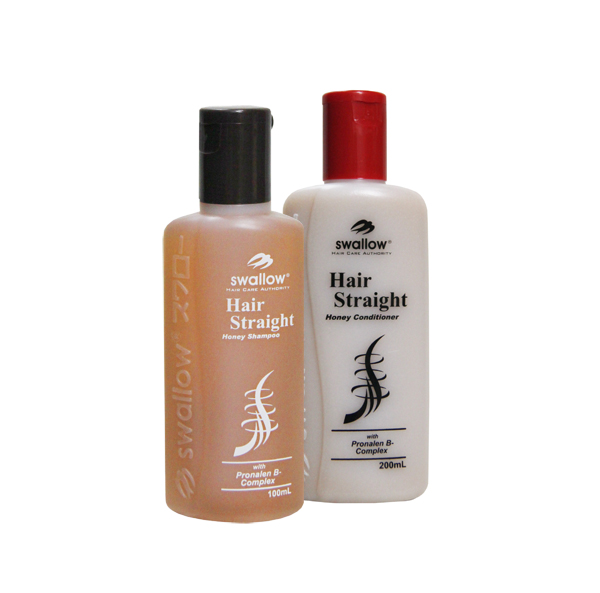 2. Dove Intense Repair - Since I am a Dove shampoo fan, I havenow opted to use their conditioner (since i switched my shampoo to swallow).
3. CosmoCare Keratin Treatment - this one is a real treat to the hair. Its got a very nice smell and it is cheap (bought it for only Php150) One sachet can be used in 3 applications once a week would be okay. (Also available in Reyes Haircutters Salon)
So Far, my hair is still as it was when I had it rebonded. I washed it already and people still wonder if i had rebonded it or it was plain Keratin treatment. My hair is so great these past five days and I intend to keep it as it is. ;) (With layers and all!)